We are glad to present you the new February '21 feature pack for AWEKAS. The key features of this update are (detailed description below):
Enabling/disabling individual sensors for the instrument panel page
Support of new sensors
New design of sensor status overview panel - optimized for mobile devices
1. Enabling/disabling individual sensors
This new key feature allows users to enable or disable individual sensors independently form AWEKAS admins. This is especially helpful when the owner of a weather station notices faulty data being sent to AWEKAS or they are doing maintenance work on their station. Therefore, the transmission of faulty data to AWEKAS due to software or hardware issues can be prevented. Disabling and re-enabling individual sensors is possible any time.
If sensors are locked by admins, the station owner may now re-enable their sensors any time, exept a permanent lock is put in place by an admin. We encourage our users to only re-enable their sensors when the issue leading to faulty data has been identified and resolved.
Enabling and disabling sensors is able through AWEKAS user settings. Sensors marked green are enabled (active and transmitting data to AWEKAS). Sensors marked red are disabled by the user (inactive and not transmitting data). Sensors marked yellow are temorariliy locked by AWEKAS admins and may be re-enabled by users. Sensors marked grey are permanently locked by the admins.
If a permanent lock was put in place for one of your sensors and you wish to re-enable this sensor, please contact the admins via email at administation@awekas.at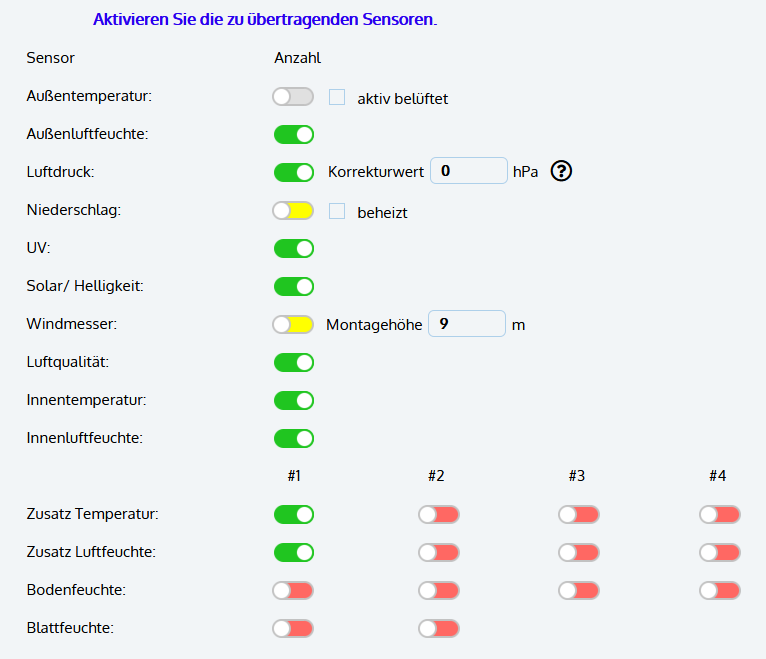 2. Support of new sensors
Seven new types of sensors have been integrated to AWEKAS. Apart from the current sensor types (outdoor air temperature, outdoor humidity, wind speed and wind direction, air pressure, precipitation, solar radiation/intensity, UV index), this feature pack brings to you the support of:
Indoor air temperature
Indoor humidity
Air quality (PM 2.5, PM4, PM10)
4 additional temperature sensors (e.g. soil temperature)
4 additional humidity sensors
4 individual soil moisture sensors
2 individual leaf wetness sensors
Please note that the number of displayed sensors on your instrument panel page corresponds with the number of active (enabled) sensors. Additional sensors that are not needed should be disabled.
The new sensors will gradually be integrated to AWEKAS Station's Web in the future, but they are already available in the AWEKAS data API.
3. New design of sensor status overview panel
The sensor status overview panel has been thoroughly revived and given a new, modern design. To retrieve the overview panel, go to your instrument panel page -> compare values with adjacent stations -> administrative locking of data transmission -> details.

The new panel has also been optimized for mobile devices. All new sensors and their statuses are now displayed in the new panel. A demo version can be accessed at: https://www.awekas.at/de/locking.php?id=2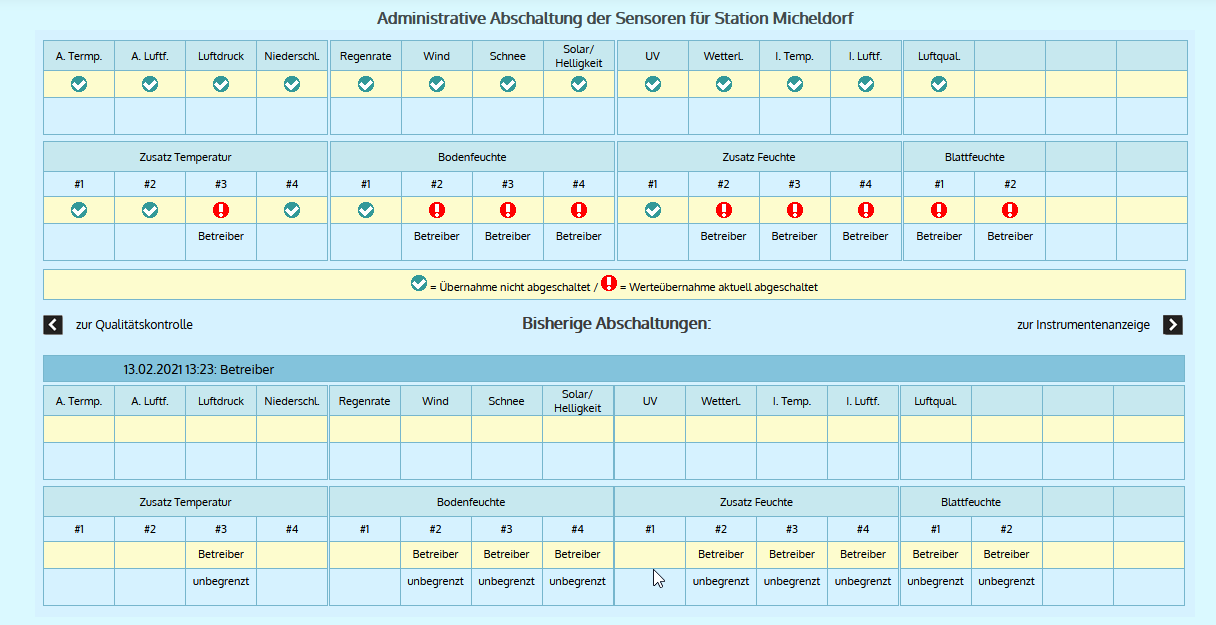 Log entries are visible for station owners (when logged in) and admins only for enhanced privacy.
We kindly ask all users to update their user profiles according to the new sensor settings.