After more than one year of development and uncountable hours of coding, the day has come.
AWEKAS is introducing the new instrument designer!
As of now, it is possible to design your personal instrument page. It is very simple and does not require any coding knowlegde. 14 different gauges are avaible, which can be adjusted in size, colour and position to your own preferences.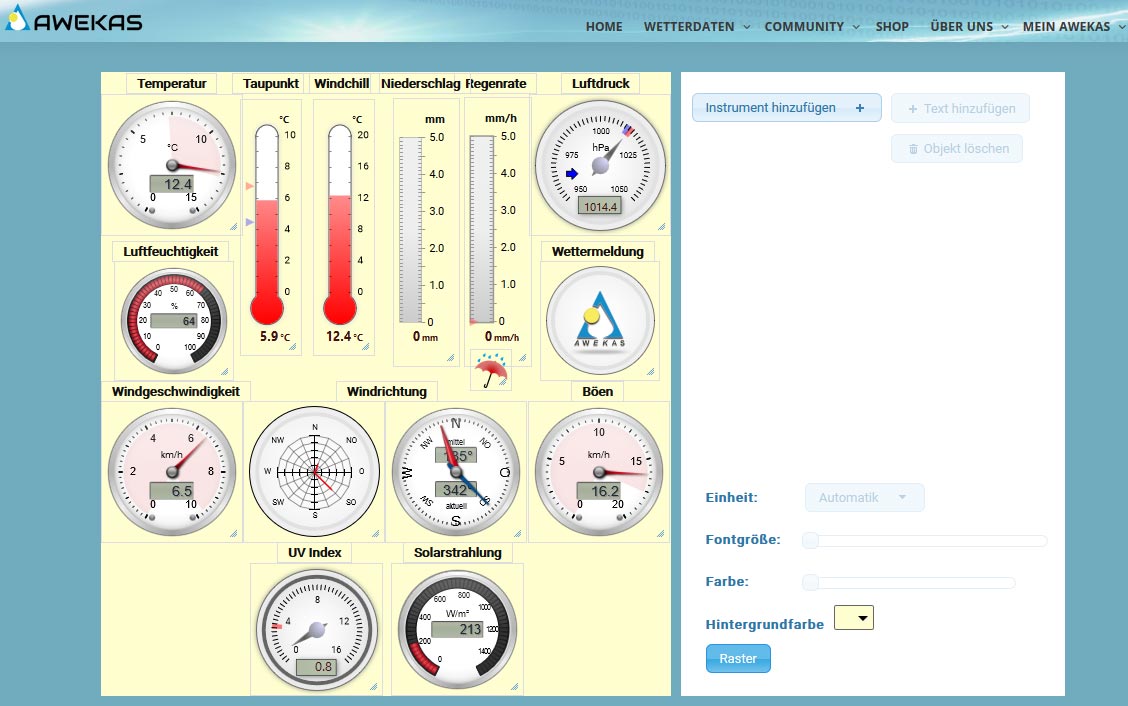 Especially for the use at your own website, the colour of the background can be changed, too.
To get to the instrument designer, please klick: https://www.awekas.at/wp/instrument-designer/
During the testing phase, the result can be viewed at http://www.awekas.at/de/instrument2.php?id=[yourawekasid] as a "special instrument page". After the testing period, the instrument panel will be able to view at the usual URL (/instrument.php).
The new instrument designer has many benefits, including:
modern HTML5 Code without Flash can be viewed in modern browsers without restrictions

individually adjustable (AWEKAS Plus feature)

automatic AJAX actualization of the page (gauges are beeing refreshed without having to refresh the entire page)

different layouts can be set

can be adjusted for your own website (AWEKAS Plus feature)

measurement units can be changed for every gauge individually (i.e. wind speed in m/s and knots in one tool)

Please report problems or errors of the instrument designer in this thread. We will fix them as soon as possible.

It is planned to offer templates for the generation of the instrument page later. Therefor, we want to use the best self-created instrument pages. If your individually adjusted instrument page should be a template, please post a screenshot and your AWEKAS ID in this thread.
The instrument designer uses the new layout of AWEKAS. This layout will be expanded to entire AWEKAS later.