Download h i e r de template file, unzip deze en kopieer de file awekas_wl.htx in het register Weatherlink/Station1/Templates. (picture 1). Ingeval van ander aangegeven pad padnamen of registerstruktuur, die opvolgen.
Download h i e r de aktuele template file van DAVIS Vantage Pro and Davis Vantage Pro2
Download h i e r de actuele template file van DAVIS Weather Monitor 2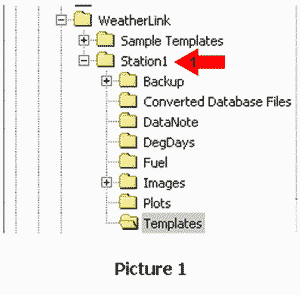 Kies Setup/Internet Settings in het programma WeatherLink. klik op de knop Configure om het profiel te kiezen dat bestaat uit de actuale data (Profile 1 as default).
Het profiel met de laagste upload frekwentie moet gekozen worden(picture 2).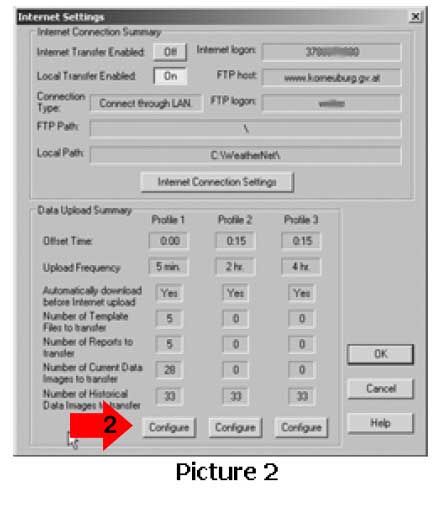 Op het menu "data upload profile" kies Select Template Files (picture 3) en klik op de Add knop. Binnen het overzicht van template files (picture 4). Dan het pop up menu om de te verwachten files te laten zien (picture 5). Dubbelklik op de file awekas_wl.htx zal deze aan de templates toevoegen (picture 4)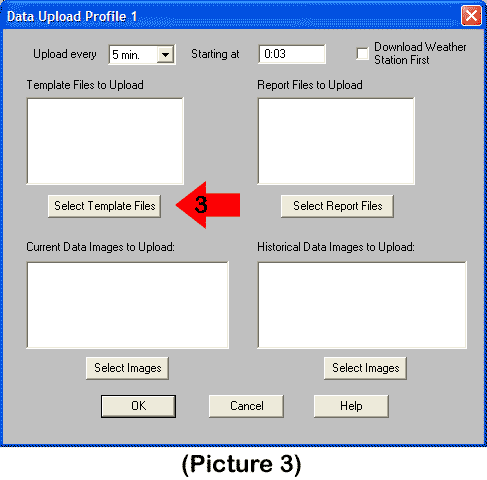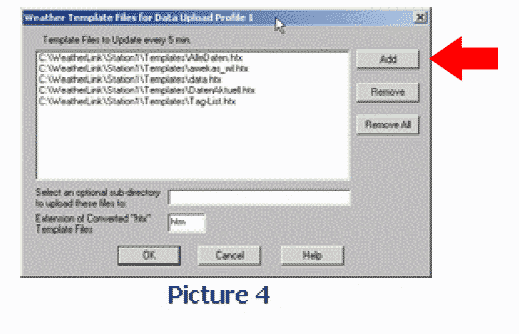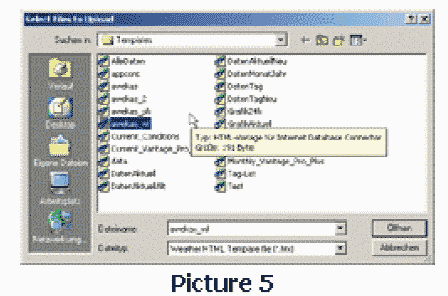 Dit zal een aktuele awekas_wl.htm genereren tijdens elke upload naar de webserver. Deze file moet gevonden worden in het register van de aktuele datafiles. Voeg het volledige pad (including awekas_wl.htm) toe aan Uw Awekas gebruikersinstelling.
A.u.b. lees dit:
Als U fahrenheit , inch ,miles per uur gebruikt en us dataformaat (mm/dd/yy) in plaats van celsius, hPA , km/h en europees dataformaat(dd/mm/yy) s.v.p.selekteer Uw data op AWEKAS user settings:
http://www.awekas.at/en/benutzer.php
Waarden van gebruikerssettings overschrijven de waarden van oude (vroegere versies) template settings.
S.v.p check eenheden op Uw AWEKAS gebruikersprofiel.