Weather Display sends datas direct to AWEKAS
AWEKAS Direct Link
Note:
Function is available from Weather Display version 10.36r or greater
Please note: there is a problem with Weather Diplay since Okt 2010: Do NOT use AWEKAS username with spaces!!! - You can use AWEKAS user control panel to change your AWEKAS username
Please complete following values at your Weather Diplay . It can be found at Control Panel -> AWEKAS.
1.) set AWEKAS username
2.) set AWEKAS password (note: set YOUR password from registration - NOT the activation key)
3.) activate "Use AWEKAS Direct"
4.) set Direct Link update intervall
5.) set main switch to ON
6.) save settings with click on OK
Please check if "Main Internet Switch" have set to - Connections "MAIN ON" . Can be found at settings --> FTP/Internet Setup
Look at this screenshot: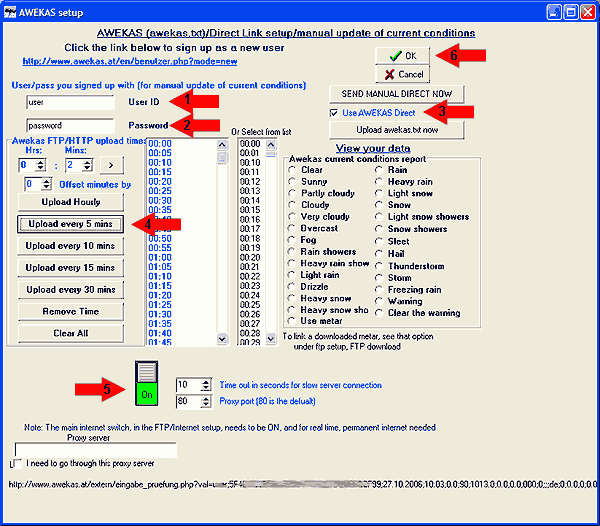 AWEKAS Direct Link ist most confortable than older transfer mode:
If you send datas your datas will be displayed on AWEKAS immediatly.
You didi not have to configure any FTP Uplad
You did not need your own webspace
traffic is smaller
you can send datas to AWEKAS with shorter time intervals
updates are easyer (build in WD)
automatic transfer mode switch: Is your station is sending datas to AWEKAS with Direct Link your transfer mode at AWEKAS user setting will atomatically switched from Weather Display "awekas.txt mode" or "clientraw.txt mode" to Weather Display Direct Link mode.